The Villa
The villa 'Anemoessa' is the result of the long term efforts put in by the Santorini native Balopitou family, who all together with passion and great artistry as well as with the highest respect for the special features of the area and an in deed love for their village, built this lovely villa. It is a soul deposition of the father Panagiotis, of the mother Fotini and the daughter Irini who know Santorini very well and they will certainly do their best for you.
Your choice to reside to our villa the days you will be in Santorini is big honour for us and a great success for you. We placed as fundamental objective of all our effort to contribute as much as possible so that these days will be for you unforgettable.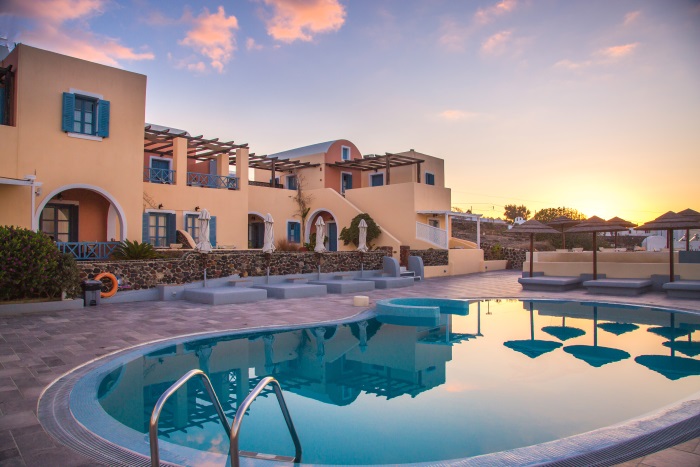 Our aim is our visitor to feel from the first moment of his arrival until his departure, that he is guest of our family. Irini, me, I am the one that I will welcome you with a warm smile ready to show you our villa and provide you with much information and comforts in order to make your staying to our villa and to our island a sweet memory.
In our reception you will find all kinds of information regarding Santorini, her beauties, the excursions and activities where you can participate, proposals of restaurants and traditional taverns, rental offices, wineries etc. And because technology is integral piece of our life, in your disposal there is a computer, with free internet access, printer, fax as well as free wifi internet to the entire villa. For those who love reading, we have created a small library with literary books from all over the world.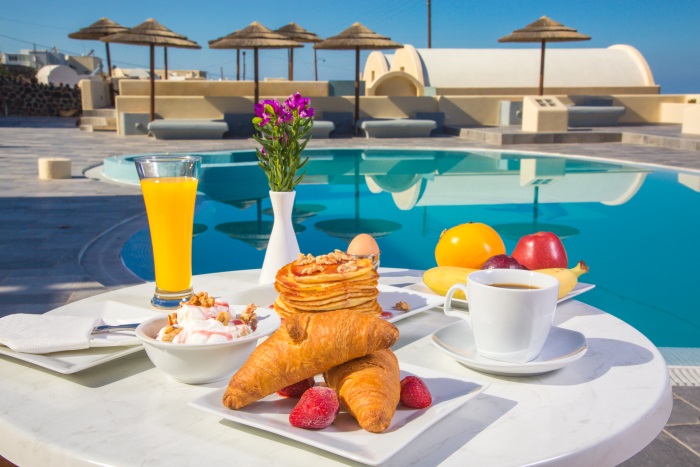 In the same area we created a warm traditional corner for welcoming you to our villa. Here you can enjoy your coffee or your drink, fresh juices, traditionally snacks as well as hand made liqueur and pastries of mother Fotini. Do not forget to try the sweet orange from fresh oranges of Crete or the sweet grape from grapes of our island. In the same area daily we serve our breakfast that with very assiduity we have attended in order that your day begins with a rich and tasty meal. Hand made cake of chocolate, apple pie, traditional cookies with almonds or raisins, Greek yoghurt with honey or sweet orange, bread, butter, eggs, jams, cerials, drinks, juices, fruits and traditionally other pastries from all over Greece.